X-Ray Scanning
We supply X-Ray Scanners for Mail, Baggage, Cargo and more.
To make an enquiry please contact us.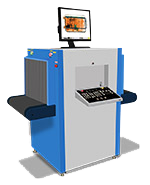 MAIL & SMALL PARCEL
Compact and mobile systems for mailroom and small parcel inspection to detect contraband, narcotics and other threat materials.
CHECKPOINT
Checkpoint inspection of incoming personnel, visitor or traveler belongings, including backpacks, laptop bags, purses and luggage.
LARGE BAGGAGE
Inspection systems with an increased tunnel size for screening baggage, oversized luggage and large crates and parcels.
CARGO
TSA qualified systems for cargo screening of boxes, freight and pallets. Dual view and high penetration systems are available.

MOBILE SCREENING
Mobile screening solutions for quick and efficient security at borders, customs sites, entertainment and sporting events.


VEHICLE
Drive-through X-Ray screening technology for trucks and large containers.

OTHER
Standard Test Pieces, Search Trays, Random Search Selectors & Training.

Make An Enquiry
All Products